Facilities
Quality Facilities create a quality experience.
Tank's Paintball Park has long been considered one of the best fields in Texas. From our thoughtfully designed staging areas to our meticulously built playing fields, your paintball experience will be enhanced by our attention to detail. Learn more about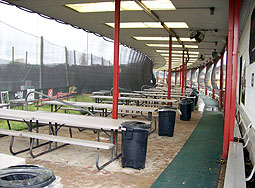 A great mix of playing fields for your enjoyment.
Our quality fields are the prime reason that Tank's Paintball Park is the facility of choice among Texas paintball players. We take great pride in creating and maintaining top quality playing fields that offer a diverse set of challenges and games. We have proven to be the best, but we are not sitting on our heels, we are constantly upgrading and creating new and different fields to keep the paintball experience exciting for our customers.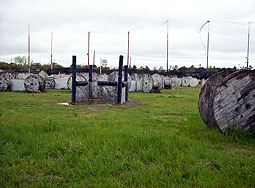 Fully Stocked Proshop on site for your equipment needs
Tank's Paintball Park has added a proshop! Now you can find great deals on all of the equipment you need, right where you need it…at the field! We carry everything; Markers, packs, goggles, clothing and all accessories you need for a great day of play. From beginner packages to the latest tournament equipment, stop by for great deals.
Top quality rental equipment.
Because we care about your safety and want to provide you with the best paintball experience, we pride ourselves on the high quality of our rental fleet of markers and protective gear. Each marker is thoroughly checked and tested prior to each session. If a problem with your marker does arise, our staff will promptly correct the problem to your satisfaction. We use Tippmann markers for our rental fleet because of their legendary reliability and American made quality.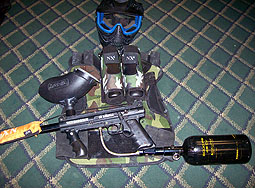 Our covered and netting staging area is designed for player comfort.
Paintball is a very physical activity and resting between games is important. A comfortable and spacious staging area helps you get your feet back under you between games. Tank's Paintball Park has a large covered staging area with plenty of tables, benches and chairs. Our staging area can easily accommodate over 100 paintballers. From the staging area you can access the bathroom, concessions and the check-in area to get extra paint and air.
The staging area is also surrounded by special paintball safety netting. Our fields are situated close to the staging area for quick access. The proximity of the fields to the netted staging area allows you to watch games close-up in comfort and safety.
Because playing paintball works up an appetite.
Paintball is an active demanding sport, so you need to make sure your body has the fuel to keep you going. To help keep your energy up and your body fresh, we offer candy, snacks, and soft drinks. Pizza delivery is also available. Because we are in Houston, where summer is a year round event, we have plenty of Gatorade and bottled water on hand to keep everyone cool.
Do you want to plan the perfect active event and have special food requests? We also have catering available for your special group. Please contact us for catering information.